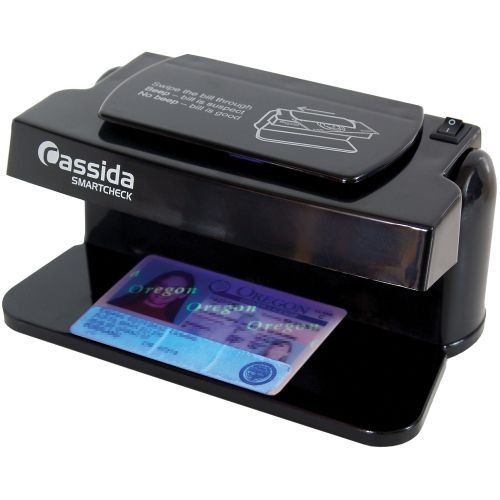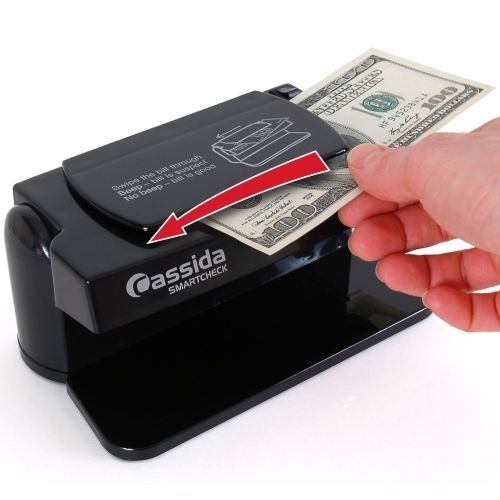 Cassida Smartcheck UV Paper Quality Counterfeit Detector
Pickup currently unavailable at 1801 East 41st Street
Cassida Smartcheck UV Paper Quality Counterfeit Detector
1801 East 41st Street
Pickup currently unavailable
1801 East 41st Street
Vernon CA 90058
United States
Product Features
Detect Counterfeit Bills Quickly
• No staff training and no more hassles searching for a UV security thread. Just swipe the bill and the detector will beep if the bill is counterfeit.
Verify ID and Credit Cards
• Built-in ultraviolet illumination can be used to verify checks, credit cards, driver's licenses, passports, social security cards, and many other forms of identification quickly and easily.
Dual Detection Security
• In addition to automatic swipe test (verification) suspect bills can be visually checked for security thread using the UV illumination.
Works with Foreign Currencies
• The Smartcheck detects counterfeit bills in foreign currencies such as Canadian dollars (including polymer notes), Euros, Pesos, and most other currencies. There is no need to change settings or have separate machines for different currencies.
Smallest Footprint of any Desktop Detector
• The Cassida SmartCheck is about 6.5" x 4" x 3" and weighs just 9.8oz, making it an easy device to keep at registers, desks, and office counters.
• Verification types: Dual Ultraviolet (UV) Detection
• Detection alert Beep when counterfeit bill is swiped
• Currencies: US, Canadian (including polymer notes), Euro, Peso, and most other currencies
• Card/ID types Driver's licenses, credit cards, passports, social security cards, and others
• Weight: 9.8 oz
• Dimensions: 6.5"w x 4"d x 3"h
• Power source: 110/220 VAC