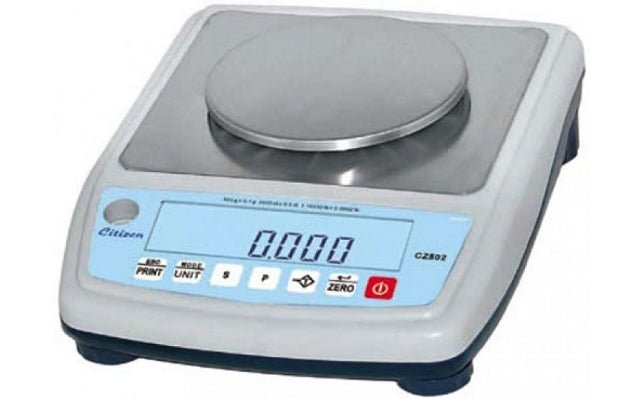 Citizen Aczet CZ 1202 Legal For Trade Balance Capacity 1200 gram x 0.01g
Pickup currently unavailable at 1801 East 41st Street
Citizen Aczet CZ 1202 Legal For Trade Balance Capacity 1200 gram x 0.01g
1801 East 41st Street
Pickup currently unavailable
1801 East 41st Street
Vernon CA 90058
United States
Gram Digital Balance – For Dispensaries
LEGAL FOR TRADE NTEP Certified REQUIRED for Colorado and Arizona May require onsite calibration for Dept of Agriculture Sticker at buyers expense and responsibility.
Legal For Trade: All balances are "Legal For Trade", also known as approved, which is required in applications where the product is sold by weight. All "Legal For Trade" balances have undergone independent testing to verify the scale meets the manufacturer's specifications.
The Citizen CZ-1202 is our most affordably priced 0.01g dispensary scale. It meets the Colorado Department of Agriculture's requirements for a legal for trade scale for measuring quantities less than an ounce. Before being put into service, you must license the device with your Weights and Measures department and have it calibrated and metrologically sealed at the location of use. MODEL CZ1202
Citizen CZ1202 Legal for Trade Jewelry balance with 1200 gram capacity. The CZ1202 has a 0.01 gram resolution with five additional weighing units. Perfect for weighing herbs with NTEP approved precision. Programmable backlight, RS-232, stainless steel tray and more.
Class II NTEP Approved Legal For Trade
The National Conference on Weights and Measure certifies this precision jewelry scale Legal for Trade, Certificate of Conformance Number 09-109. Now you can count on these balances for an accurate reading time and time again. You can even use this balance to get accurate weights of items you might plan on selling commercially by weight.
Programmable Backlit Display
This Citizen scale has a bright, backlit weight display so you can see your weights even in dim lighting. You can even program this feature to stay on, stay off or come on with the press of a key or change of weight.
RS-232 Serial Port
The Citizen CZ1202 has a RS232 port built right in. This is important if you want to to send your readings and other data to an external source like a computer or printer.
Removable Stainless Steel Platform
The CZ1202 have a durable stainless steel weighing platform to make cleanup a breeze. Unlike gold or silver, stainless steel doesn't scratch easily and keeps its shine without rusting or tarnishing.
Tare Feature
The tare button on the front of this digital jewelry scale can be pressed to "zero out" the weight on the scale. You can then add more weight, and the display will only show the weight of the items your adding. This sure is useful if you want to use an expansion scoop to weigh your things, or if you want to get separate weights of multiple items.
Liquid Level Indicator
This very handy feature will help you quickly and easily get your scale nice and level. A level scale is important for getting the most accurate weight readings.
Compact and space saving.
Auto-Zero Tracking & Auto Calibration.
8 different weighing units such as g, ct, Tola etc.
Backlite LCD display for easy viewing function.
Piece Counting & Percentage weighing function.
2,00,000 Internal Resolutions.
Built-in rechargeable battery for continuous use.
Hanger for weighing below balance.
Conforms GLP/GMP and ISO 9001 standard & CE certified.
NTEP Class II Balance
CofC #09-109 (click to view certificate) e=10d=0.1g
Specifications
Capacity: 1200g
Readability: 0.01g (e=0.1g)
Linearity: ±0.01g
Display: Back-lit LCD 0.55"
Power: AC Adaptor 110V, 220V 50/60 Hz or 6 AA Batteries (not Included) Built-in Rechargeable Battery
Operating Temp 14° F to 104° F
Platform Dimensions (in) 4.7" dia.