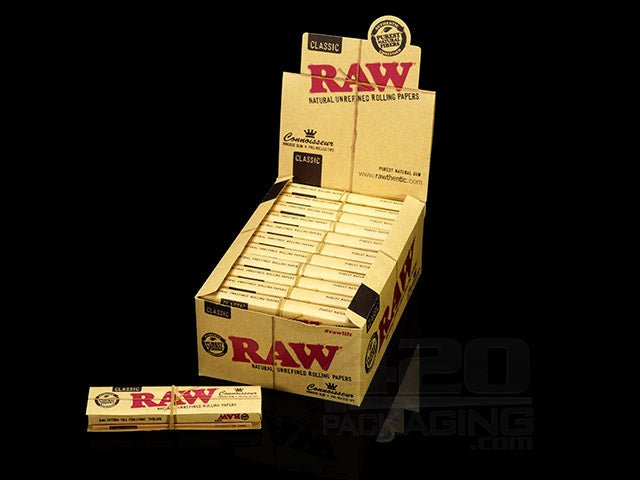 Raw Rolling Papers Connoisseur King Size Slim + Tips
Pickup currently unavailable at 1801 East 41st Street
Raw Rolling Papers Connoisseur King Size Slim + Tips
1801 East 41st Street
Pickup currently unavailable
1801 East 41st Street
Vernon CA 90058
United States
Raw Natural Unrefined Rolling Papers
Made by Artisans from Alcoy in Spain these totally natural papers offer the discerning smoker a simple choice, RAW Rolling papers unbleached and unrefined or chlorinated rolling papers full of chemicals.
RAW Connoisseur™ is one of our personal favorites. Each Connoisseur pack includes RAW Unrefined papers, RAW Unrefined Tips, and a unique outer sleeve with natural rubber band. Each package is printed on eco craft paper using a Japanese process of thermography. In short, they're beautiful and the pride of RAW.
The choice is clear choose RAW rolling papers for a totally natural paper. RAW also have their own exclusive cross pattern watermark, which minimizes runs and odd burning of the papers. Hold these beautifully translucent papers up to the light and you see the honey golden brown natural color of these rolling papers criss crossed with their patent pending watermark! A true artisan rolling paper in every sense of the word with over 100 years of history poured lovingly into every packet of natural rolling papers produced.
This product is not available internationally. We apologize for this inconvenience.
Here you are buying bulk RAW Rolling Papers
The price shown is for
24 packets of King size Slim + tips
RAW Connoisseur unrefined rolling papers
With 32 papers per packet
Size: 110 x 44mm
Product Features
• ALL Natural Rolling Paper
• Criss Cross Watermark
• Unbleached Paper
• Translucent Ultra Thin Rolling Paper
• Best Quality Artisan Made
• Natural Gum