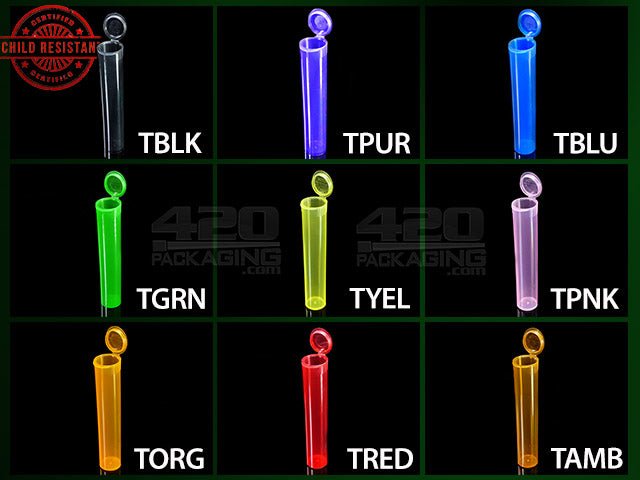 Squeezetops® 98mm Transparent Mix Child Resistant J-Tubes (073700-CR) 1000/Box
Pickup currently unavailable at 1801 East 41st Street
Squeezetops® 98mm Transparent Mix Child Resistant J-Tubes (073700-CR) 1000/Box
1801 East 41st Street
Pickup currently unavailable
1801 East 41st Street
Vernon CA 90058
United States
J-Tubes are long plastic tubed containers that are a designed to hold pre-rolled cones and keep medicinal product fresh during transport and storage. Keeping pre-rolled cones inside our long and skinny plastic containers gives you worry free security. J-Tubes won't open up inside of your pocket or bag, keeping your product in perfect condition. J-Tubes have the same uniquely designed child resistant squeeze-to-open hinged-lid as our Squeezetops® plastic containers. We proudly make Squeezetops® in the USA and use the highest quality polypropylene plastic, which makes them FDA compliant and 100% recyclable. By using this high quality medical grade plastic we can ensure that your product will be as safe as possible in the container.
Please note, 98mm Cones need to be filled and twisted to fit inside these J-Tubes. Unfilled 98mm cones
will not
fit inside 073700-CR tubes.
The Transparent mix box comes with 10 of our see-through colors! This box includes the following transparent colors: Clear, Black, Violet, Blue, Green, Yellow, Orange, Red, Pink, and Amber. Transparent containers are dope because you get to see and admire your perfectly rolled cone while still allowing it to be protected and maintaining its freshness. The 073700 J-Tube is 98mm long, which can hold a 3.7inch pre-rolled cone and keep it comfortable no matter where you go. All colors may not be present in mixed box and we do not guarantee an equal ratio of colors.
Fits Pre Rolled Cones Up To 98mm

Standard
0.33" Diameter Series

Outside Dimensions
0.755" Dia. X 3.700"Ht.

Inside Dimensions
0.608" Dia. X 3.670" Ht.

Metric
19.18mm Diameter Series

Outside Dimensions
19.18mm Dia. X 93.98mm Ht.

Inside Dimensions
15.44mm Dia. X 93.22mm Ht.

Volume
oz drams mL