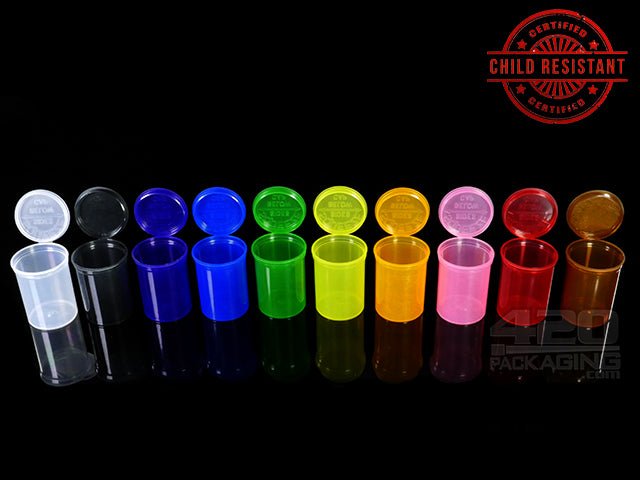 Squeezetops® PST30 Transparent Mix Child Resistant Containers 600/Box
Pickup currently unavailable at 1801 East 41st Street
Squeezetops® PST30 Transparent Mix Child Resistant Containers 600/Box
1801 East 41st Street
Pickup currently unavailable
1801 East 41st Street
Vernon CA 90058
United States
PST30-Transparent is the fourth size in the Squeezetops® series and holds about 7 grams of product. The great thing about a transparent, see-through container is that you get to see just how much product you have. You will never be surprised opening up your container and realizing you don't have any medication left. All Squeezetops® plastic containers are designed with squeeze-to-open hinged-lids, making them certified child resistant. Not only is the design awesome, but also the material it's made from. We use the highest quality Class VI Medical Grade Polypropylene plastic; which makes it FDA compliant, keeping your product in its purest condition. Thanks to its large 7-gram capacity, the PST30 child resistant Squeezetops® are the perfect plastic container for your business.
The "Transparent Mix" box is a random assortment of our 10 transparent colors. All Colors are not guaranteed to be in each box, nor are even amounts of each color guaranteed. This mix is great for having a fun assortment of colors that you can easily see through.
Here's the fine print:
The Squeezetops® PST30 container was evaluated using the consumer product safety commission protocol and standards. The study indicates the PST30 container fulfills the requirements for a poison prevention package as per the current code of federal regulations (C.F.R.) Title 16, Part 1700.
For a list of our certifications, check the certification tab.
The PST30 (30 Drams) Will hold approximately 7 Grams of medication.

Standard

Outside Dimensions
2.02" Dia. X 2.75"Ht.

Inside Dimensions
1.77" Dia. X 2.53" Ht.

Metric

Outside Dimensions
51.31mm Dia. X 69.85mm Ht.

Inside Dimensions
44.96mm Dia. X 64.26mm Ht.

Volume
3.75 oz 30 drams 110.90 mL